I've been running a single chainring setup since 2008. Only one chainring up front is great, mainly because it helps prevent your chain from falling off. Through my trials and experience, a dual guard setup was always the way to go. Until now!
SRAM has released a specialized component group for 1x cyclocross, the CX1. That's pretty nice stuff, so if budget is no option, go for it! However, I decided to do it my way. I'll show you what I did, but first, here's what all the tech is about:
No more chain guards!
Dual chainring guards work GREAT, but are a big pain to set up and maintain. For one, getting the spacing right so the inside guard doesn't rub on the chainstay is painstaking. I finally got my last setup right by running BBG ultralight guards, as small as I could to mate with a 38t chainring. The guards are really thin, and I needed every mm I could get. Also, setting up these guards requires the use of spacers, and they are a pain to slide in place while you're assembling your chainring sandwich. Taking the whole thing apart is no fun, but you have to do it because grass and mud get jammed in there sometimes, and there is no way to clean it out after a certain level of accumulation. Dual guards work, but they are a pain. Now, there's a better way!
Narrow Wide Chainrings
Narrow-wide chainrings are brilliant. The idea, as you might have guessed, is the width of the chainring teeth alternate – wide, narrow, repeat. Take a look at a bike chain: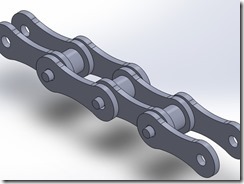 See how the inner plates are more narrow than the outer plates? And you see how they alternate? The teeth on a narrow-wide chainring match up to this pattern. So the fat teeth only fit in the outer plates. Obviously, you can only have even numbered tooth count chainrings. This is good stuff, because it really grabs hold of the chain. I was pretty amazed by how well it works. I think this works well enough to lose the chainring guards, but I didn't stop there.
Chain Slap
A big reason chains fall off in cyclocross is chain slap. The chain bounces around, becomes slack, and it starts to come off the chainring. So when you coast down a big bumpy hill in your smallest cog, the slack in your chain makes it prone to bounce, and it could come off the chainring. This is caused by the rear derailleur moving all over the place. It happens a lot.
One way to address this is to run a single ring up front, because you don't need as long of a chain, and you keep more tension in the system. The smaller the spread between your biggest and smallest gear, the tighter your chain can be. However, chains can still bounce off, and you can certainly hear your chain slapping the frame as you bomb down a bumpy hill. Now, there is something to help with that!
Clutch Derailleurs
Clutch derailleurs help prevent chain slap. The spring tension is higher and they are designed to not fly forward like a typical bike derailleur (rear). It was first used for downhill or other MTB uses, but now this tech comes with SRAM's CX1. I'm sure other component makers will follow suit.
Paring a clutch derailleur with a narrow-wide chainring takes out the two factors that cause your chain to fall off. The chainrings hold the chain on and help prevent it from sliding off. The derailleur keeps the chain from slapping, which causes slack.
SRAM makes "Type 2" MTB derailleurs, which are clutch equipped. Shimano also makes a MTB clutch derailleur, but it mounts to the frame using a different standard that no Cyclocross bike will have. So it's looking like SRAM or nothing right now. Your shifter options are okay – you can run SRAM or Campy shifters. I'm using 10spd campy shifters with a 10spd SRAM type 2 derailleur, and it works great. Shifts better than my road bike, actually.
My setup
My setup is working GREAT. I'm using a SRAM 10spd drivetrain:
Race Face Narrow-wide chainring (I'm running 44t)
10spd cassette (I'm running 11-32)
SRAM XO 10spd Type 2 (clutch) rear derailleur
Currently, there are a few options for narrow-wide chainrings. They all are based on the same principle and it looks to me like the execution is similar:
So that's my setup this year. I've got a dozen rides in, including a lot of fast, bumpy downhills. I've had no problems at all, and I've not once heard the chain slap the frame. I'm very confident the chain will not fall off, ever.