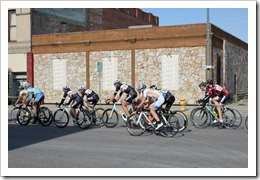 I knew this was going to be hard, but I'd forgotten how hard it really was. Baker City was, like the rest of Oregon, HOT. I've never drank so much water in my life. However, we did our best and dealt with it just like everyone else. In the end, nobody on the team was in a significant place in the GC, but we all finished the damn thing. That's more than a third of our category can say. My teammates were looking at this as a weekend training camp, and I am now in complete agreement with that.
OUCH
It was really hot. On top of that, there were some really big hills. I thought I was doing fine until the peloton punched it up a big climb. Then, I hurt, couldn't breath, couldn't cool off, and just went backwards. Trying to chase back on was just a cruel joke, gaining ground just to be spit off the back again for the next climb.
Stage 1 was 72 miles, very hot, and hilly. Stage 4 was like that, with an additional 28 miles and a big mountain to climb at the end. After being dropped and squeezing out all the energy I had left trying to catch back up, the darkness set in just trying to finish the day. It hurt. A lot.
What to take away
I would much rather race to compete, rather than race to participate. I was not adequately prepared to compete. Just survive.
I know how my body works, and when it's really hot, it does not perform well. I just hope to be better acclimated to whatever weather is in store next time. This race really was a lesson in coping with the heat. It's just one more thing you need to learn to overcome. This helped a lot because I really had no choice but to keep going.
In the end, I got some good training in, and I'm happy to be on the road again. There's plenty of time before cyclocross starts. I'm going to try and enjoy this for a while.