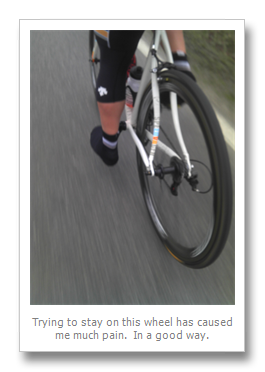 I've been out of the road racing scene for a long time now. With all that's been going on, I really haven't had the time or energy to train for it, let alone race.
However, I'm about to get back into it with the Baker City Cycling Classic. My teammates Richard and Monty have been training pretty hard this year; I've never seen them ride so fast before. Me, I never found the time or motivation to train. In May, I found myself hopelessly out of shape. I considered dropping out of the race, but decided I would just ride my ass off and trust my body would come around enough to survive.
When you are in really good condition, it's a lot of fun to go fast. But when you get out of condition, you really miss it. You ride with your peers and find you can't keep up, or you try to do things your body once was capable of but not any longer. My teammates have been really going after it this year, and they are deservedly going very fast right now. Me, I am blessed with health, but I've chosen to not take advantage of that like I should. There are always other stresses, distractions, etc. You still need to take care of yourself. This race is a good catalyst for me to do that.
I suffered heavily riding with the boys in May. They killed me. Finally, one week away from the race, I can finally hang with them. Where I was once just fighting for dear life to stay on their wheel, now I can take pulls and participate in the throw-downs. I've still not caught up to them but given the right conditions I can at least hold my own. I'm happy about that. Very happy.
So here we go; one week until Baker City. It's kind of special for me because I did this race ten years ago. Time flies. I am glad to be getting back into shape, and hope I can keep it going into an improved cyclocross season.
However, first things first, and now it's all about Baker City. There are four stages spread over three days:
Hilly, wind blown 72 miles on Friday
Time Trial, Saturday morning
Crit, Saturday afternoon
Death march, 102 miles in the mountains
I hope I survive to the end. I'm not just going to sit in and see if I can finish. I want to help my team if I can. We'll see how it goes. I'll write a recap after each stage.