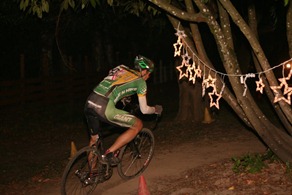 I made it to the first Blind Date cyclocross race Wednesday night. Since it wasn't until 8:00, and I was able to go straight after soccer practice. It worked out pretty well.
I felt better in this race. A lot better than Sunday. I was sitting in 2nd place for the first lap and a half before I went down hard after lapping wheels in a corner. It hurt like crazy. It took me a while to get up, and then get the bike operable, but I kept going and was still in an okay position I think. A few laps later, my left crank fell off. That wasn't very awesome. I went and got a wrench, tightened back on and kept riding for another 5 or 6 laps. I lost probably almost 10 minutes doing that, so I'm sure I got last place, but at least I was the fastest DFL'er of the day.
I had a lot of mechanical mishaps today. Crank fell off, and then the stem came loose from the steerer in my crash and kept slowly turning more and more sideways as I rode. I finally had to stop and straighten it out after it got beyond 30 degrees out of alignment. Kind of trippy to look down and see your bars so sideways! My seat slipped down, too. But that's fine. I should have everything dialed in on both bikes by Sunday.
I'm hurting pretty bad today. I am hoping I didn't crack a rib, but I have a feeling that's what happened. My daughters were enjoying seeing daddy writhing in pain when they made him laugh. I'm waiting on x-rays to see, but all that will really give me is a time frame for how long until I'm feeling better.
The good part is I felt good out there. I am not going fast, but I was faster. I was quite comfortable on the bike, especially in the corners. It was my first ride on tubeless tires this year. My oh my, I've missed them so. I'm trying a new tire out for this dryer weather. I only had it on the front but it will be on both wheels this Sunday.
So I'll fix things up and hopefully make it to Alpenrose for the Cross Crusade kickoff! You can't stop me. You can't! Ow.
Photo courtesy Dave Roth, dmroth.com