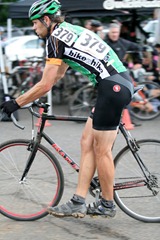 Alright, so I decided to go hit Barlow High School for a little race before the big opener at Alpenrose.
What a mess.
We started off, things were okay, but then people started riding away from me. The bumps just killed me today, in more ways than one.
It took me a while to realize my front brake was rubbing my rim. Well, I knew something was wrong, but when I actually tried to spin the wheel with my hand and it would not budge, I knew I had a little problem. Turns out I hit a bump and it knocked my left hood down the bars a bit, which tightened the brake to the rim and also screwed up my front derailleur. I just didn't think it was rubbing that hard. I hate it when that happens. Took me a couple laps to realize this.
My rear wheel also managed to come loose, so I had to stop and tighten that up. And I lost a chain at the top of a run-up. Lots of stopping today, but that wasn't my biggest problem.
Biggest problem: I'm slow, kids. Slow. But it's okay, I'll keep plugging away and we'll see how things go.
I had fun, so that's what I'm going with for my Barlow race report: Slow, but fun.
Photo courtesy Dave Roth.