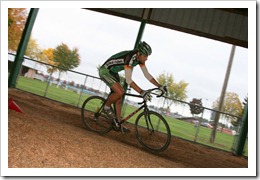 Washington Country Fairgrounds is flat. That's nice. The mud there is pretty awesome, so I've been looking forward to this one. Race day arrived and guess what? No mud. No rain. The course was fast, dry, hard and even a little dusty in a couple places if you can believe it. It was fun, featuring some tight chicanes, a sand flyover and lots of wide open grass fields to tear down.
My race number callup put me almost in the very back of 80 guys. And then there was a crash right in front of me where I had to either stop or run over a couple people (Yeah, I stopped). There were a couple of bottlenecks on the first lap that ensured the front guys got things stretched out while we sat with a foot down waiting to get through.
The course was really bumpy, and it kinda beat me up. I started to get a groove on the last couple laps but it was too little, too late. I'm a bit disappointed in my performance, but there is certainly a few things I could have done differently to help change that.
My next race will probably be at my favorite venue, Barton Park. It might even be my last of the season. With today's results, it's not looking very good that I'll get anywhere near a top 10 at one of these Cross Crusade races, but I am certainly going to try like hell at Barton. It's still taking me a good 30 minutes to start going fast(er). I'll try to get a better warmup next time. I hope that in two weeks, we'll have some good rain to muddy up the place. I don't want another dry course; bring on the mud!
Photo: dmroth