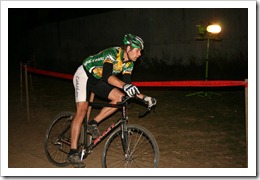 I somehow managed to make it to all five Wednesday night races this year. It was really fun.
Tonight's race was okay, I guess. I got the hole shot again, which makes three times out of five. They award a bag of Stumptown "Hairbender" coffee beans for that, so I've won three bags and be well caffeinated this Fall.
I led the race for a little while, but three guys were soon on me like glue. Eventually, they came around and rode off; I couldn't follow them. But it was a good time, for sure. They added some great chicanes to the course, and it was dry and fast. I didn't even need to clean my bike after the race.
If you're in Portland, consider giving one of these races a try next year!
photo courtesy dmroth