Winter is almost over. Flowers are starting to bloom, leaves starting to grow, and the weather is getting hella nice out there. We're not out of the woods yet, but soon it will be Spring. Sweet, sweet spring.
Here's an update on a few things:
Bike Stuff:
Cyclocross was fun, and I want to do much better in 2010. I am training. I now know what LT is. And SST. And zones. I think it will help.
I have little motivation to do any spring races. A big pile-up in what would have been my race at the Banana Belt has done nothing but confirm that. There's plenty of time to race. For now I just want to ride, get my work stuff organized, and hang out with the family. Not super exciting, I know, but I'll post some more interesting bike stuff soon.
House: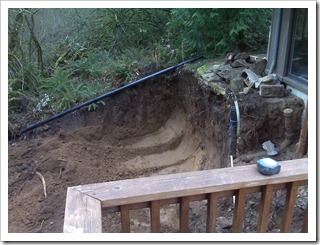 We have been planning a smallish two story addition for a long time now. There'll be one bedroom upstairs, two downstairs (for the girls). Our living room will be expanded so there is more space to play and hang out. Should be really nice.
Work has just started on this project. The first step is to dig out some dirt and put in a retaining wall/foundation. It's going to take a lot of concrete, but it will be very robust.
More news and photos will follow soon, but for now, all I have to show is dirt. Lots and lots of dirt.
Olympics:
Did you watch the Olympics? We watched some of it.
Best event: short track skating
Worst event: ice dancing
What were your choices?
Kids:
The girls are awesome and doing well. We have three now, as we took in a foster child just before Christmas.
Mette just turned 8 and had a fun ice-skating birthday party at Lloyd Center. She's had really rotten luck for her birthdays in the past. I think twice she had to have surgery or was recovering from surgery. Another time, we moved to our current house and had a ton of work to do. This year, she celebrated three times, and thoroughly enjoyed it. She's getting pony lessons for her gift, so that should start Monday.
Annelis is going to be playing spring soccer. I'll be coaching her team...well, helping coach. We're pulling in as many resources as possible. Should be fun.
Dogs:
We're watching my mom's dogs for the week while she is on vacation. These animals are horribly dangerous, as you can see here: