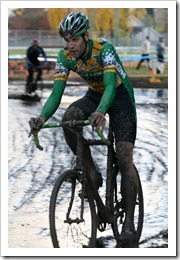 Another muddy race. It was awesome. It didn't rain for most of the day, so I was worried we'd get stuck with one day old peanut butter mud. But things were still plenty slippery, and it worked out okay. I would have preferred a little more wet stuff that doesn't stick to the bike so much, but it was pretty good anyway.
I left off at PIR two weeks ago. I think I got 18th in that race. Since race number one, I've been improving in the results slowly but surely. 45th, 37th, 18th and now 14th. I got a fabulous starting position today in the third row and was in the hunt for a top 10, but I was just not able to ride as hard as I wanted. I probably would have placed a few spots back, had some of my competition not had mechanical failures, but that's racing. I'll take it. I had a better ride at PIR, but I started so far back I still ended up 18th. I still haven't placed in the top 10 this year, but if I'm going to do it, there is no better time and place than this weekend at my favorite race course, Barton Park. We'll see.
My pit bike was not running well and my SS had two flat tires, so I just left them all home and came with the A bike. I was confident the bike would last a whole hour, for better or worse. That was stupid. While riding around in circles, minutes before my race, I heard a loud SNAP. I got off the bike and found a seat rail was broken. I just stood there, bewildered. Broken seat. Really? I didn't have a spare, and I certainly didn't have any time to deal with it. I still kind of worked, so just hoped it would last the whole race. I tried to ride on the nose as much as possible, and I did a stutter step remount every time to make sure the landing didn't break that one remaining rail. It worked. Felt a little weird riding a slanted seat, but I made it to the finish.
I usually like to get in a couple of preview laps so I know what's coming. I only got half a lap in today, though. There was a little ditch kind of thing that was pretty tough to ride. I knew I could ride it, but I just couldn't figure it out during the race. I should have tried it a few times during the pre-ride. Oh well. The six pack of barriers was back. I usually enjoy those, but the bike must have weighed 40+ pounds with all that mud, and they spaced them out such that there was no rhythm to your running. It was actually kind of tough.
There was plenty of slippery mud, and it really challenged my technical skills. I was able to not use my brakes as much but then I lost traction around a few sharp turns, saved by a quick foot to the ground. Other corners I was too tentative. It was a good experience going into what's sure to be a messy course next week.
I'm looking forward to racing at Barton Park. I got a 10th place last year, despite some mechanical mishaps. If I have a clean race and a good start, who knows? I'll see what I can do.
Photo courtesy David Roth.