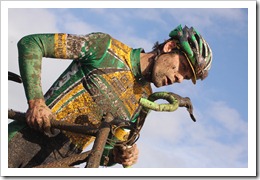 The mud at PIR is the best cyclocross mud in the world. For real. So when it started pouring rain on Saturday, I was very happy.
This was the first race of the year where I've arrived at the venue during a downpour. It takes a lot more planning (and clothing) for races like that, and I was not well prepared. It was cold. I swear I saw little pieces of snow hitting the ground. I put on every piece of clothing I had and got in a good preview lap.
Next, I went to the car and changed everything. Shoes, socks, everything. It's a lot nicer to warm up in dry clothes. But I didn't bring my trainer, so I just rode around in the rain. The weather let up a bit so it was not bad at all. Before I knew it, it was time to line up.
I started DFL. Decided to do a couple extra warm up efforts on my way back from the car and completely missed the starting callup. So I just asked Brad Ross what chute to go in and lined up behind everybody. I was kind of bummed about that, but there were other things to be happy about.
Anyway, the whistle blew and we squished off into the mud. If there is a nice thing about starting behind everyone, it's that you can only move forward. I passed a lot of people, moving up from group to group. The mud was awesome. I was totally in my happy place. The bike performed perfectly, so all I had to do was focus on moving up.
After the traffic thinned out, things were pretty smooth. I was moving forward and gaining ground throughout the entire race. I sure wish I'd had one more lap to catch the next big group up ahead of me. With a little more effort, I could have been several places higher up in the finish. I wasn't sure I could put out much more, but I think I could of. So I'm encouraged by the result, and hope I'll keep improving with my next race at Washington Country Fairgrounds in two weeks. It's getting better.
photo courtesy sosovelo.