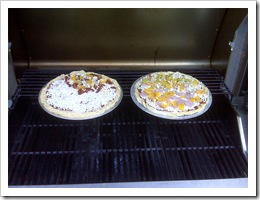 I have not made pizza in a long time, and I was kind of craving it tonight. So I whipped up some dough and made a couple for dinner.
I didn't have any dough ready, and I certainly didn't have 8+ hours to let it rise. I found a great recipe for grilled pizza dough in a book my sister gave me for my birthday. It's fast, quick to rise, and works perfectly. I used pizza screens, and cooked them on the upper shelf of the grill. You could probably also cook it on one side, with the burners on the other side (For indirect heat).
Cooking the pizza on the grill is a big win, because cranking up the oven to 450+ does not help keep the house cool in the summer.