We had some great weather this weekend. Although cars are kicking up big yellow clouds of pollen, nobody cares. We are sun starved and enjoyed it very much.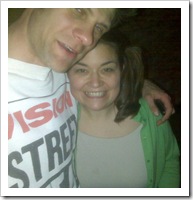 I went out early for a few hours on Saturday for a nice road ride. I expected it to be warm, but it was actually really cold. While I expected to be riding in short sleeves, I instead got numb feet and hands. That's weird.
That night, we decided to go to an 80s party. I dug out my Vision Street Wear sweatshirt and wore the closest thing I had to parachute pants. I totally forgot about my checkerboard Vans, damn it. We didn't really get that into it, but I think it'd be a fun party to throw at home, too.
Since I froze my butt off on Saturday, I decided to wait until afternoon to ride on Sunday. It was warm and beautiful outside. So much so, I just had to take Annelis to Forest Park for some fun mountain bike riding.
She did great. Leif Erickson is still very muddy but she took it all in stride. We ended up making it all the way to Saltzman and back (from Germantown). I think that's over 10 miles of muddy, bumpy, kinda hilly riding. She has a great spin and was riding really well. I'm so proud of her...which is why I'm going to post some pictures: