Mette had her first loose tooth. It was hanging by a thread, but she just would not pull it out, and she certainly wouldn't let us do it.
Every day, that tooth got more and more wiggly. Finally, on Saturday, she could blow out her mouth and the tooth would literally flap in the wind. Now that's loose! But would she pull it out? No, she would not.
Practice. I decided what she needed was practice. So I got out some raisins and some pine nuts. I stuck a pine nut (the tooth) into a raisin (the gum) and let her pull it out: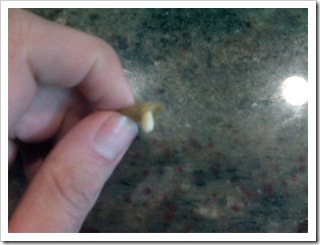 We practiced over and over. It was so easy. Surely now, she'd pull that tooth out, right? Nope.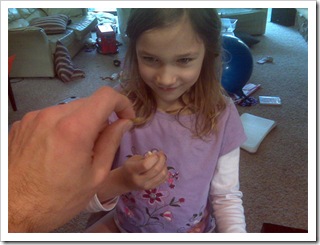 Defeated, I decided to take a quick shower. During that 5-10 minutes, big sister bribed her to pull it out for one dollar, and it was a done deal. Kids these days.
Regardless, the tooth is now out, and I can once again look at my daughter without getting the willies from seeing it flap in the wind.