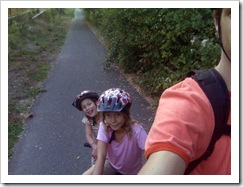 I lost the last remaining key to my car almost two weeks ago, so I've been doing without for a while.
The kids have soccer practice three times a week, so we've been riding there. It's great!
The climbs are kind of tough on them, especially my 6 year old. When she comes along, I've been using a trail-a-bike that's got two seats--a tandem trail-a-bike!
If you've ever towed one of these things, you might have experienced the radical reduction in your ability to go in a straight line. As you might expect, towing two kids along amplifies this. My front wheel has actually skidded sideways while I was trying to keep the bike under control. So when dad yells "BALANCE," he really means it!
There have been a few moments when I was a little concerned, but they were short lived. Reminds me of the time I was going down a very big hill, towing the kids in a trailer, and my frame broke. "Uh oh," I thought, as my suddenly floppy bike swerved all over the place.
When given a choice, the kids are now choosing to ride instead of drive. I think that's great!