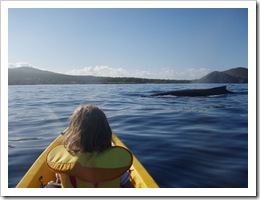 We joined the Pacific Whale Foundation (based in Walluku, Hawaii) this summer. Their mission:
To promote appreciation, understanding and protection of whales, dolphins, coral reefs and our planet's oceans.
They're about to publish an educational book entitled Humpbacks of Hawaii: The Long Journey Back. They sent out a request for photos to their members this summer, and they picked one of ours to be in the book.
The photo (at right) is from a kayak whale watching trip we went on. On that trip, we saw a pod of male humpbacks getting a little rowdy, so we paddled out towards them. We kept a safe distance and enjoyed the show.
The whales soon made a sudden change in direction. Bobbing up and down, blowing water spouts as they went, they came straight towards us. Just before the reached us, they all went under water and went silent. We looked around, and realized they were swimming right underneath us. I could see their white front fins, each one larger than our little kayak. It was amazing.
Donna snapped a few photos, and this is the one we sent for consideration in the book. That's Mette in the front of the kayak. She's getting a lot of press...perhaps we should get her in commercials.