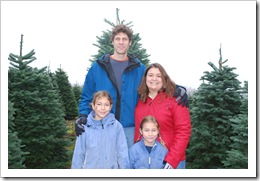 Oddly enough, I have no cyclocross race report. Weird. I barely rode my bike, I think once since Friday. Uh oh.
So we spent Tday with Donna's family. 23 people under one festive roof. It was pretty good.
Friday, we went and got our Christmas tree with the Hallquists. This is getting to be a long standing tradition, and we enjoy it very much.
After plopping the tree in a bucket of water, we piled into the car and drove to the Oregon coast for a weekend on the beach, at my parent's place. The weather was fairly warm and damp, and the ocean waves were huge. I had a nice ride up Highway 101, and couldn't help but notice the hundreds of SUVs flying UO or OSU window flags for the Civil War football game. OSU got trounced, damn it.
I put a few pictures up here.
How'd you spend your Thanksgiving weekend? Hope it was nice.