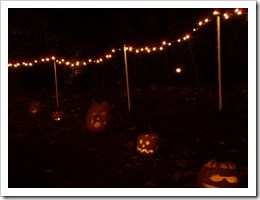 The kids have two days off school prior to Halloween this year, so we're going to go a little more nuts with our "Haunted Path" this time around.
Our front yard USED to be a wonderful garden, designed and planted by a master gardener. That was in the 70's, however. Since that time, the master gardener has passed away, and the front yard has turned into an overgrown forest of diverse vegetation. Winding through it all is an old path made of slate, granite and maybe even a little marble. While this must have been beautiful at one time, it's now a little spooky. Perfect for Halloween.
Last year, we had great success. We lined the path with lighted jack-o-lanterns and other spooky things. Kids came in droves to walk through it.
This year â€" more jack-o-lanterns. More spooky stuff, as evidenced by the boxes of skeleton parts on our living room floor. Donna will have a couple days to plan this out, and she's pretty pumped up about it. It will be good.
There are other improvements, too. For one, Lelu is not much more ferocious and scary looking:
| | |
| --- | --- |
| Last Year: | This Year: |
And will we see new and improved costumes from last year?
| | |
| --- | --- |
| Underwear Ninjas: | Thing One and Thing Two: |
Full coverage to follow.