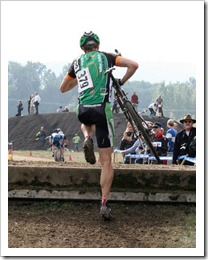 PIR is always fun. It's usually rainy for this venue, and the mud here is the good stuff: Grade A cyclocross mud. This year, however, we had dry ground and sunshine. I guess that's okay. I'll admit is was nice not having to clean the bike after the race.
I started slow and kept riding pretty slowly until about 20 minutes to go. Someone passed me and I finally switched on. I rode fairly good after that, and started to feel like a bike racer again. If I could do that from the start, I'd be elated. I'm not there yet, but I felt something kinda good. Good thing the race lasts a whole hour!
If I can make it to the race next weekend, it will be a fun one. I like the course at Washington County Fairgrounds. It's pretty flat and has some really fun twists and turns. It's kind of like a cyclocross crit.
I don't know how much longer my season will go. It's possible I'll close it out with my favorite venue, Barton Park. Maybe hit the USGP in Bend, but I'm just not sure I can do that. I'm just going to enjoy what comes my way, and hopefully keep improving as I go. This cyclocross stuff is pretty fun.
Photo: Dave Roth