I have recently been given a 2001 Lemond Poprad (cyclocross) frame to mess with (thanks Thom). I'll slowly put this together as a winter project.
My first order of business is to get a fork for this frame. I figured any fork would do, but I did a little reading anyway. I was very wrong - any fork will not do. Let's get a little geeky for a moment to explain why: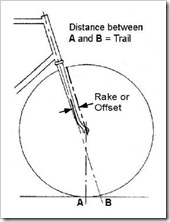 Trail is the horizontal measurement from the centerline of your front hub to the centerline of the contact patch your tire makes with the ground. Forget fork rake, wheelbase, etc. Bike handling characteristics are primarily determined by trail. For real.
Ever ghost ride a bike when you were a kid? That's when you kind of jump off your bike and send it coasting down the road on it's own. A bike with lots of trail will tend to go a very long way before falling over. A bike with less trail will fall over sooner. Basically, the less trail, the less effort is required to steer the bike.
Obviously, there's a happy medium. Quick steering is desirable, but not too quick. When you're bombing down a hill at high speed, you want the bike to keep going in a straight line.
Notice the front axle centerline (e.g. point A) is located behind the center of the tire contact patch where point 'B' hits the road. That means as you increase your fork rake, you'll decrease your trail.
There are a few factors in determining trail:
Head tube angle (from horizontal)
Fork offset (i.e. rake)
Length of fork (from crown to dropout)
Outside wheel diameter (note tire size matters)
The formula for calculating trail is pretty easy:
Trail = (r * cos(a) - R) / sin(a)
where r is the outside radius of your wheel (probably about 350mm for cyclocross, 340mm for road), a is the head tube angle from horizontal, and R is the fork rake.
Fork length makes a difference. When you get a shorter fork, the effective head tube angle will increase. You could probably adjust the 'r' value to see how much it would affect trail.
I calculated the trail for a bunch of cyclocross bikes. The target seems to be between about 6 and 7 cm. For this Poprad project, I'll go for about 6, maybe even a hair below.